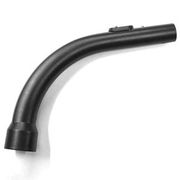 Geuine Miele Replacement Tublar Hose Handle for Miele S500 - S600 and S2 S2000 Series Canister Vacuum. Old Part# 05269090. Replacement Hose Handle. Hose Tubular Handle. Snap-in Assembly.
Genuine Miele AirClean Vacuum Bags
For Models:



S400i - S456i
S600 - S658
S800 - S858
S2 Series
S5 Series
S8 Series



Includes 4 Bags + 1 Dust Compartment filter, 1 Super air Clean filter
Miele SF-HA 30 HEPA AirClean filter fits in S2000, S7000, C1, U1 and older S300-S899 series Miele vacuums.
This filter has a true HEPA filtration layer that removes 99.95%+ of microns 0.1 or greater in size.
Combined with a rubber air tight sealing system around the sides of the filter, you have the ideal setup for allergy sufferers or anyone looking to enjoy a higher quality of air in their home.
Miele has recommended changing once every 18 months for standard user volumes (or approx. 50hrs of use).
To help users remember when to change their filters, New upgraded SF-HA 30 featured with a time release color strip has been added. This strip slowly fills with red until after one years time, the whole strip becomes red.
Main Power Switch 9023230. For Miele S300, 500, S4000 and Many Canister Models. Replaces Miele Old Part No. 04367102
Genuine Miele Belt for SEB213, SEB213-2, SEB217, SEB217-2 Power Brush Nozzle Unit. Also for STB205 and STB205-2 TurboBrush Unit. Sold Each. Cog Belts Usually Last Three to Five or Even More Years If Brush Rooer is Properly Maintainted (Miele Part# 04897760)