Genuine Miele AirClean Vacuum Bags
For Models:



S400i - S456i
S600 - S658
S800 - S858
S2 Series
S5 Series
S8 Series



Includes 4 Bags + 1 Dust Compartment filter, 1 Super air Clean filter
Genuine Miele AirClean Vacuum Bags
For Models:



S241 - S256i
S290 - S291
S300i - S399
S500 - S578
S700 - S758
S4000 - S4999

Includes 4 Bags + 1 Dust Compartment filter, 1 Super Air Clean Filter
Miele Part# 07805100,
Natural Bristles
Miele SBB300-3 Parquet Twister Floor Tool-NEW!!! Fits all S2/S4/S5 series and S140 - S195, for S300 - S758 Models.NEW!!
- Mixture of polyamide and natural hair Bristle
- Gentle cushion for cleaning tile, wood, and other smooth surfaces
- 12 Inch Cleaning width
- Rotates 90 degrees each way by slight twist
- Exceptionally agile at cleaning around obstacles such as table legs and in tight places
Natural Bristles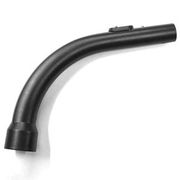 Geuine Miele Replacement Tublar Hose Handle for Miele S500 - S600 and S2 S2000 Series Canister Vacuum. Old Part# 05269090. Replacement Hose Handle. Hose Tubular Handle. Snap-in Assembly.
Miele 200 Series Compact Canister Dusting Brush with Nylon Bristle
Genuine Miele Hose for S200 Series Canister Models. Miele Part No. 03617462. For Models :
- S246 Naturell
- S247 Ivory Jewel
- S248 Flamenco
- S251 Miele Plus-Flamenco II
- S256 Black Diamond